NAME: D-MONIC
ROLE: DJ
GENRE: BREAKS
"I have a lot of great memories from my VERY long time with Destiny. Some as a party goer, some as a DJ. All of them good.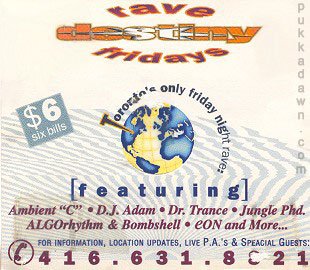 As a raver in the early days, I went to many Destiny events, but I was a regular at Destiny Fridays at 31 Commissioner St. My weekends were planned around Destiny Friday's first, everything else second. There were few nights I missed there. In fact, I skipped my high school prom to go to Destiny Fridays instead! It was a magical place.
One of the highlights from my time there was my hero (at the time): Dominik. In the glory days of the Toronto rave scene you couldn't throw a party without having Dominik play. He was a true staple of the scene. I would go to hear him play every weekend. One night, they celebrated his 23rd birthday at Destiny Fridays. As we all sang Happy Birthday to him, I set a goal for myself that, as an aspiring DJ, I would be as popular as Dominik was by the time I was 23. Thankfully that's a goal that I accomplished.
Fast-forward a few years to my first opportunity to play for Destiny in 1997. I got to open the main room of 'The Docks' (now called Sound Academy). It was the biggest party and the biggest room I'd played at to date. I'd been playing at top 40 clubs and small parties for 5 years before that, but I was so nervous that I was shaking the whole set. From that night on I became a Destiny resident. I played many of the big parties, and very often at the NEW Destiny Fridays on Isabella St. Things came full circle.
I could go on and on about those days, but I'll narrow it down to 2 great memories from playing Destiny events:
First: WEMF 1999 in Sauble Beach. The breaks DJ's were put in a tent on a very hot and very dry weekend. When people started dancing the dust that they kicked up was insane! The tent was nicknamed 'The Dust Bowl' for the remainder of the weekend. When I started my set the records I'd put on the turntable were black, but when the song was done they were a brownish grey. It took weeks to clean those records afterwards, and some still have that dust in the grooves to this day! It was a great set and the people got dirty and danced hard. One girl came to the front to tell me how much she loved the set so far. She asked if I was single, because if I was she'd totally marry me! I laughed and jokingly told her: "I don't see a ring!". She promptly took one of hers off of her hand and put it on my pinky finger (the only one it would fit on). Thanks to Alex D from Tribe for capturing that moment.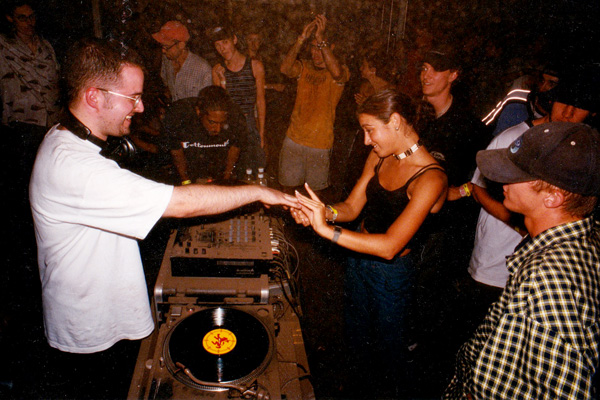 Second: The second memory was given to me by a couple of people that stopped me at one of my Pure Phunk events in the early 2000's to tell me a story. In 1998, Destiny booked me to play at their next event called 'Fusion'. This party took place at the Warehouse (later called the Kool Haus) and I was to play in the Orange Room (later called Chroma) at 11:00pm. This was printed on all the posted time slots, and that's what time I got there. However, there was a 'game time decision' to switch my slot with the 5:00am slot. Didn't matter to me, I preferred to play late and back then breaks in the morning was a preferred genre. I recall that set well. The room was rammed from 5:00am to close and it was a great set.
What I didn't know at the time was that I had fans! Two of those fans (who didn't know each other) went to that party separately for the purpose of seeing me play. They saw that I was supposed to play at 11:00, and when I didn't go on at 11:00 they found out that I'd been moved to 5:00am... so they waited… separately. Over the course of the night they noticed each other standing around and waiting. After a couple hours of exchanging glances they started talking. They both found out that they had something in common right away. Me. They talked, they danced, they had a great time, and they stayed in touch… and a year or so later they got married. Those that know me know that I'm never short on words, but when I met these two people and they told me their story I was literally speechless. This story still brings a smile to my face to this day. I wonder if they're still together…
Congrats on 22 continuous years of amazing events, Destiny!"
For more about D-Monic:
** Join us on August 14th, 2015 to celebrate 22 continuous years of Destiny events! CLICK HERE for more info **