Destiny, On Point and Torontojungle.com present:
PROJEK: HOLIDAZE 12.16.11 @ The Guvernment (Main Room)
JUMP UP LEGEND DJ HYPE
DJ Hype is a stage name of drum and bass producer and DJ, Kevin Ford.
He was an early DJ on one of London's pirate radio stations, Fantasy FM, and has been popular on the international DJ circuit, landing awards for Best Male DJ and Best Radio DJ (in 1994 and 1995, respectively) at the UK's Hardcore Awards.[2] He also presented on the London based radio station Kiss 100, and was a player in Suburban Base's compilation series, Drum and Bass Selection.
DJ Hype began producing in 1989, engineering and co-producing tracks (including "Exorcist" and "The Bee") for Kickin', Strictly Underground, and Suburban Base.
His Ganja Records label gained popularity, primarily through dance floor fillers such as "You Must Think First", "Tiger Style" and DJ Zinc's "Super Sharp Shooter". Their popularity peaked with the release of their first album in 1996: Still Smokin' , a label compilation released jointly by Ganja and Pascal's Frontline imprint. Re-released in 1997, its success also led to a major label deal with BMG's Parousia sub-label and the establishment of True Playaz, a Hype led DJ and production unit also including DJ Zinc, Pascal, and Rude Bwoy Monty. His 1997 Parousia EP, New Frontiers, with Ganja Kru, reached #56 in the UK Albums Chart.[1]
DJ Hype is known for his jump up DJ sets, including appearances at the Playaz night at Fabric.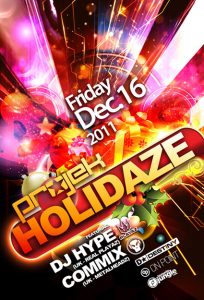 Tickets On Sale Now: CLICK HERE
Other Ticket Outlets Found Here: CLICK HERE