Earlier this week UKFDubstep  published  Delta Heavy's  new music video  for "Get By"  from their upcoming album "Down The Rabbit Hole" 
available for pre-order
 from Ram Records.
This stop motion video has quickly gone viral, featuring classic children's games being annihilated, all in the name of Dubstep.
FRIDAY JUNE 8TH 2012
Destiny, Electronic Nation & Torontojungle.com present:
PROJEK: NOISIA W/ DELTA HEAVY @ THE GUVERNMENT (MAIN ROOM)
Featuring:
NOISIA (Vision Recordings, NTL)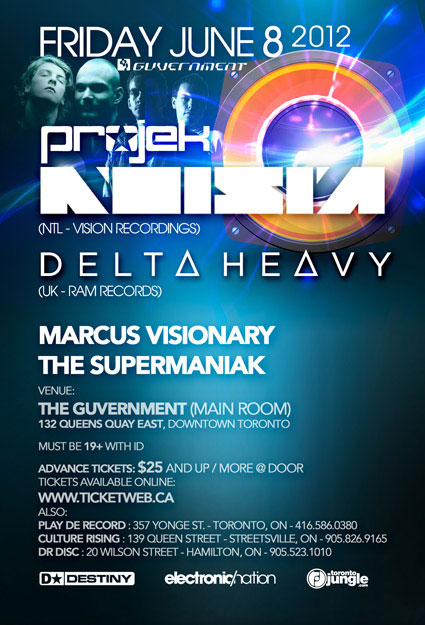 http://www.facebook.com/noisia
DELTA HEAVY (Ram Records, UK)
http://www.facebook.com/deltaheavyuk
Alongside:
MARCUS VISIONARY
THE SUPERMANIAK
WHO IS DELTA HEAVY?
Battering down the doors of the genre elitists come a pair of producers plucked from the ranks of Ram's new generation of incredible music making talents. In a little over a year Delta Heavy, or Si James and Ben Hall to their mums, have already proven their drum & bass metal with a succession of heavy-hitting original tracks.
They met at university in Nottingham and after several years of hard work, their production efforts resulted in their debut drum&bass release on Viper's acclaimed 'Acts of Mad Men' compilation in June 2009. A track in the urban thriller 'Harry Brown,' (which featured the sound track by Chase & Status) and several dubstep and house remixes followed in quick succession.
Dance floor anthem 'Abort', came out on Viper's Headroom EP in June 2010 to huge response and gained them recognition within the scene. With Radio 1 support from Zane Lowe and Hugh Stevens as well as Andy C, Friction, High Contrast and the rest, it became a vital fixture in DJ sets across the country.
Signed to Ram in early 2010, their debut single 'Space Time / Take The Stairs' was nominated as Best Track at the 2010 Drum&BassArena Awards as well as nominations for Best Producer and Best Newcomer DJ. Hitting number 1 across all the download stores, 'Space Time' was undoubtedly one of the biggest d&b tracks of that year.
2011 saw remixes for the likes of Example, Avicii and Chase & Status ft. Tinie Tempah and secured Delta Heavy as a name to watch, but the highly anticipated follow up to their massive debut single was always going to deliver. 'Overkill / Hold Me' has cemented them as bass innovators and leading lights in the current hype that surrounds much of bass music today. Packed with energy, the single takes dubstep, drumstep and drum & bass formulas, infusing them with enormous electro influences, slamming drums and razor sharp production, then spits them back out with rave-destroying force. Hold Me received over a million views of the official video in a little over a week and received daytime radio play from Sara Cox as well as specialist spins from Skream & Benga, Mistajam & Kissy Sell Out.
 GET YOUR TICKETS FOR PROJEK: NOISIA W/ DELTA HEAVY NOW!