One of the hardest working labels on the drum and bass circuit are heading into a very big year in 2014. Hospital Records is going to be celebrating their 18th birthday, and since big is the only way this company knows how to do things they are ringing in the event just so. On January 27th they will be releasing a MASSIVE 29 track album with original tracks and remix projects from everyone in the hospital family. From the founder London Elektricity to the veterans High Contrast and Danny Byrd and the bigger than big Netsky all have tracks on the album. Fred V & Grafix, SPY, Metrik and the newest superstar from Medschool, Etherwood (he just won best new comer producer and best newcomer DJ at the DNBA Awards) have some brand new tracks and remixes on the simply titled 'We Are: 18.'
Hospital Records has been going steady since '96 when founders Tony Colman and Chris Goss, at the time collectively making up London Elektricity, sought an outlet to release their jazzy raregroove sounds before moving towards various styles of drum and bass. Danny Byrd was first to sign to Hospital in the 90's and is now three albums deep with the label, with his most recent "Golden Ticket" album coming out in one of the most clever release strategies I've seen in drum and bass (think willy wonka, think golden ticket, ya..  you got a chocolate bar with your CD). High Contrast was the next big signing for the company and brought that unique sound that at first was questioned, but is now envied.
In mid 2000's the label began looking to the younger generation of producers and who they discovered changed the face of the label forever. Netsky has without a doubt become one of the most commercially successful drum and bass producers/DJs since Chase & Status, hell he is currently on a stadium tour across the UK with them right now. The signing of 23 year old Netsky and the release of his self titled LP in 2010 brought a completely new fan base to the label. With the new attention from a younger and more relentless generation the label moved to sign Fred V & Grafix straight out of their university dorms, signed the young Austrian duo Camo & Krooked (they're album 'Zeitgeist' just won DNBA's album of the year) and then swept up the already popular Metrik while he was between labels.
The fresh sounds these signings brought created a space for a fresh and unique way to market their music. Hospital Records boasts one of THE best merch shops of all record labels, hands up hands down. These guys even brewed their own beer... (cheekily titled "Doctors Orders").  Take a look at their store here because you can get basically anything you want with their logo on it. The label has turned itself into a brand which is universally recognized. When anyone with an ear in the drum and bass world sees the " H " logo they think immediately of Hospital Records, their artists and their award winning "Hospitality" events. Their Hospitality tours are basically a wet dream for anyone who is even the smallest fan of the label, with lineups including: High Contrast, Danny Byrd, SPY, Fred V & Grafix, Metrik, Camo & Krooked, Etherwood and Royalston all in one. single. night. Aside from their lineups, the way they organize their Hospitality Events is unprecedented. Their last big night at Brixton Academy titled 'The Final" was done in the style of a boxing match with the DJs going Back-to-Back. The guys even came out in custom made boxing robes and the DJ booth was inside a boxing ring in the middle of the room...  and then surrounded by 5,000 ravers.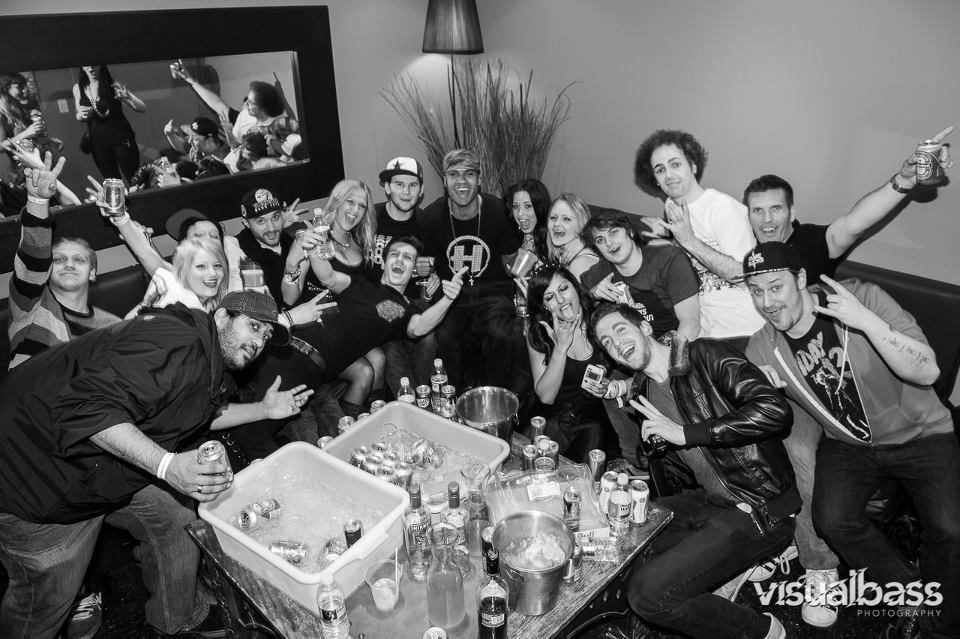 Attending a Hospitality Event is something any lover of the label needs to do at some point in their life. I was blessed to attend Hospitality Brixton on behalf of the label last year and it was one of the greatest nights of my life. We (Destiny) have hosted a Hospitality Night as part of our annual Bassweek for the past few years and will be doing the same this year! Hang tight for more details on that... for now make sure to check out Hospital's "We are: 18" out on January 27th. While writing this I have listened to the album and it is truly amazing with wicked remixes, beautiful new tracks and a stellar full album mix by the Hospital man 'Tomahawk'
PRE ORDER ALBUM HERE
----------------------------------------------
Hospital Records Website
Hospital Records Facebook
Hospital Records Twitter
----------------------------------------------