This February for the second year in a row, Electronic Nation & Embrace alongside the support of Toronto's greatest production companies such as yours truly (Destiny), Balance and Uniq bring you the highly anticipated Brrrrr! Winter Music Festival at Echo Beach. Only real Canadian's would 'highly anticipate' a night of raving in the cold - but thats why we are awesome right? Brrrrr is an opportunity for us to celebrate winter in the heart of Toronto. This year the lineup the team is bringing you offers enough diversity that everyone from the techno junkies to the big room ravers will be satisfied, heating things up enough to distract us all from the impending frost bite. Spanning across two stages, freezing revellers will be able bask in the warm sounds of Wolfgang Gartner, Bassjackers, Felix Cartel, Henrix, Joe Ghost and Matt Zanardo at the TD-Echo Beach Main Stage. Or, you can head into the heated Corona Techno Dome where combined with the heat and the sounds of Hot Since 82, Holloh, Eric Volta, Lee Foss, and Sharam you'll be breaking a sweat to some of the best sounds from the deepest and techiest sides of the electronic world.
For Canadians, preparing to spend an evening partying outside in the snow should be second nature for us. Toques, mitts, and a Canada Goose coat are all standard pieces of any canuk's wardrobe. Although in Toronto the amount of snow we actually get is often reminiscent of what Charlie Sheen's coffee table may have looked like, as Canada's greatest city, we know how to dress the part for winter, whether or not its freezing cold or there's snow on the ground.
Well, most of us...
Lets take a second and have a quick chat about the do's and dont's of dressing for Brrrrr festival : 
Last year we had some ladies who showed up to the event in heels. Raving in heels in a club is not for the faint of heart so raving in heels in the snow is basically a death wish. Ditch the Jeffery Campbell's and opt for some proper footwear. Hunters, leather boots, hell even a hideous pair of Uggs are more acceptable then watching girls trying to walk across snow with three inch heels beneath them. Since raves are all about self expression and dressing up is half the fun for most people, don't hold back! Costumes, bright colours, and the like are totally acceptable and encouraged. But, I think if any of us asked the girls who were wearing neon booty shorts in the snow last year how they enjoyed their night, their response would definitely be negative. You want to be warm enough so you can focus on the music, drinking, dancing and having fun with your friends… not hung up on the idea of your nether-regions probably never working again because of frost bite. Boots. Yes. Pants. Yes. Rep some sweats, thick tights, jeans with some leggings underneath or hell, be like me and rock the f**k out of a onsie. The parka is an obvious call, and if someone shows up to the event without a proper coat, I think entry should be denied. Your complaining of how cold you are is going to be a buzz kill for everyone, so be smart. Also, don't forget a toque, scarf and something to wear on your hands. A good tip: opt for gloves instead of mitts. You will probably be wanting to text, call, and snap pics all night, and thanks to the touch screen revolution - its not so easy when your hands are in mittens but with the right pair of gloves, your fingers can stay warm while you shazam and instagram.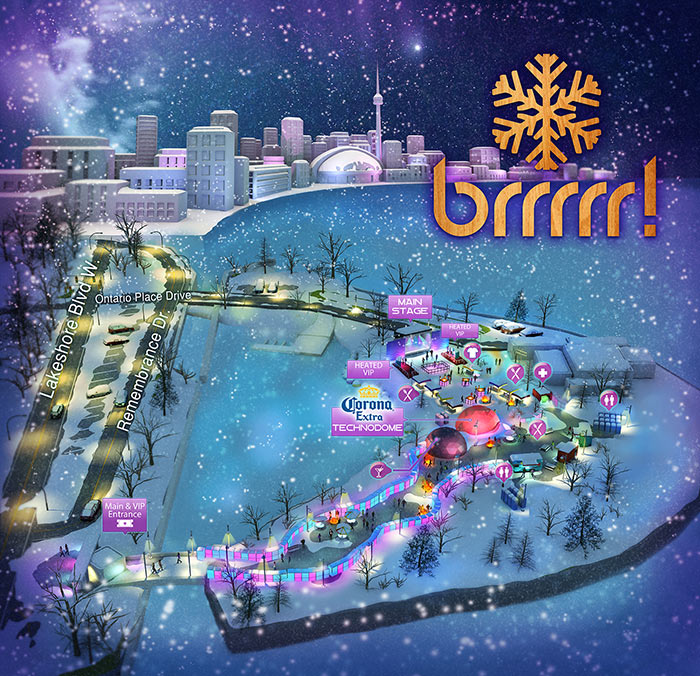 Brrrrr is happening February 1st 2014 , giving you more than enough time to prepare for braving the cold. As long as you dress the part and take advantage of the countess bars (you feel the cold a lot less with a little/big buzz on amiright?) you are guaranteed to have an amazing experience. Brrrrr is a very unique event, allowing us as proud Canadians to embrace the cold and celebrate the season with friends and amazing music. Take the time to prepare for the night, get to know the artists, and buy your tickets ASAP. Then, all you have to do is soak up all the heat you can until February 2nd, so when the night comes you can enjoy yourself like a true Canadian!
----------------
ARTIST LINEUP (click name to follow to each artist's soundcloud page)
TD ECHO BEACH
- WOLFGANG GARTNER
- BASSJACKERS
- FELIX CARTAL
- HENRIX
- JOE GHOST
- MATT ZANARDO 
CORONA TECHNODOME
- SHARAM
- LEE FOSS
- HOT SINCE 82
- ERIC VOLTA
- HO11OH 
For more info, visit: www.BrrrrrTO.com
Tickets available HERE
* 16+ event with 19+ full festival licensing *
Brrrrr! Winter Music Festival 2014
February 1st, 2014
Echo Beach (Ontario Place)