Heavy material from start to finish in Noisia's triumphant headline set at their Noisia Invites event in their hometown of Groningen. Featuring loads of tracks from Split The Atom and its recent Special Edition, plus their forthcoming Imperial EP, loads of live edits, the Groningen home crowd absolutely going off, not to mention a cheeky front flip stage dive from Thijs. 
FRIDAY JUNE 8TH 2012
Destiny, Electronic Nation & Torontojungle.com present:
PROJEK: NOISIA W/ DELTA HEAVY @ THE GUVERNMENT (MAIN ROOM)
Featuring:
NOISIA (Vision Recordings, NTL)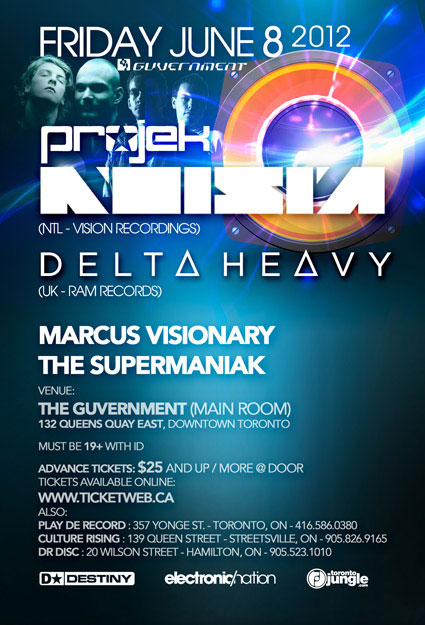 http://www.facebook.com/noisia
DELTA HEAVY (Ram Records, UK)
http://www.facebook.com/deltaheavyuk
Alongside:
MARCUS VISIONARY
THE SUPERMANIAK
ABOUT NOISIA
Noisia (who took their name from the word VISION inverted on an upside down VHS tape) are Nik Roos, Thijs de Vlieger and Martijn van Sonderen, hailing from Groningen, The Netherlands. Influenced by an eclectic range of artists, from The Prodigy to James Brown, Miles Davis to Konflict, Tipper to Fatboy Slim, Noisia make music for DJs and dance-floors that is interesting enough to cross over from the clubs to your MP3 player. Over the past few years, accolades for Noisia have included Best Tech DJ in the UK National D&B Awards in 2009 and 2010, Best Producers at the 2010 D&BArena Awards and Best Drum&Bass Artist on Beatport in both 2009 and 2010.
The guys have worked with, and remixed a number of diverse artists, with notable tracks including, 'Alice' by Moby, 'Omen' by The Prodigy, 'E.T.' by Katy Perry, 'Scary Monsters and Nice Sprites' by Skrillex, 'Raise your Weapon' by Deadmau5, and Hadouken, whose entire second album 'For The Masses' was produced by Noisia. They have collaborated on a number of tracks with Foreign Beggars, the most successful being 'Contact', which has garnered over 3 million views on YouTube and become an influential underground hit. Another Noisia video that has been a big hit on YouTube is 'Exodus' which took 3 years to make and features KRS One.