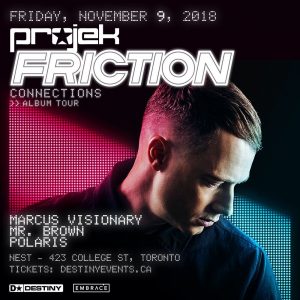 DESTINY Events & Embrace present
FRICTION (uk)
Shogun Audio : Elevate : SGN:LTD : BBC 1Xtra
MARCUS VISIONARY
Kool London : Inner City Dance
MR. BROWN
Massive : Prophecy FM : Destiny
POLARIS
Med School, Technique Rec.
Tickets at: DESTINYEVENTS.CA
Nest Nightclub
423 College Street West
Shogun Audio is arguably one of the more prolific labels in drum and bass. It's stable consists of Alix Perez, Spectrasoul, Technimatic and ton more. The man behind it all is Ed Keeley otherwise known as DJ Friction.
From his debut release in 1998 to current day, Friction has had releases on major labels such as, Valve, Tru Playaz, Hospital, 31 Records and even Sony Music under the alias FineArt.
His skill as a DJ is puts him in top tier ranking alongside the best in the world.
On Friday November 9, 2018 Projek alongside Embrace present the Toronto stop of the "Connections EP" album tour!
Not a show to be missed.