Drumsound and Bassline Smith have been dominating the drum and bass scene for years and always manage to stay one step ahead of the curve with the most original, dance floor hits. With Destiny's 5th annual Bassweek right around the corner, I got to ask them some questions about how it all started, their sister label and all the going-on's of the hottest trio in drum and bass right now.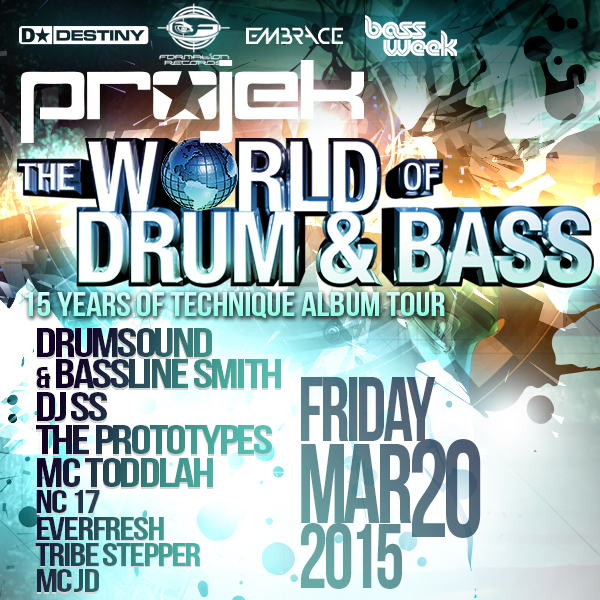 1. You all met in Derby during a club night back in 1998. What happened that night that made you guys decide to band together as 'Drumsound & Bassline Smith'?
Yeah we met a night called Technique, we were all residents there, it was the hub of Jungle & Drum & Bass in Derby at that time. It was a real vibrant place with a collection of musicians & DJ's from across the city, it was the place to be. I guess we would have been having a few drinks, you know how it is, exchanging ideas, & naturally decided to get in the studio together. After a few sessions in the studio & the realisation that there was a good chemistry between us all, Drumsund & Bassline Smith, Technique Recordings was born. The rest as they say, is history.
2. You were asked to complete a CD of samples for the coveted Loopmasters Series. How important was that project in pushing your own realms of creativity?
Yes very important indeed. We wanted to make it as unique as possibility, but also a collection of samples that we would be happy to use ourselves & in fact we have. The response was great, & we were honoured to be given the opportunity by Loopmasters too.
3. Technique Recordings recently celebrated 15 years, with a growing artist database and general expansion what are some of the differences between running the label and managing your own group affairs?
To be honest there not enough time for me to answer this properly.  Both require a considerable amount of attention.
4. Along with Technique Recordings you've started a sister label, W.A.R. Records. What can we expect from that quickly growing imprint?
Currently we don't have any releases planned for WAR as all the attention is on the 15 Years Of Technique at the moment.
5. 'Your last LP 'Wall of Sound' is a journey of various emotion that seem to 'ebb and flow' throughout. How much did personal experiences help shape the lyricism of the album?
Well we worked with a wide variety of very talented vocalists for our Wall of Sound album, such as Youngman, Ayah Marar, Tom Cane, Sam Frank, Bam from The Jungle Brothers, Fleur who recently just shot to stardom with the X-Factor, DRS to name just a few. Each of which definitely brought their own angle & experiences to the table.
6. Achieving a classic sound is something you've all said is important to you. What makes something 'classic' in your opinions? 
Well most artists will strive to have a classic sound to some degree, but 'a classic' sound, result is very much subjective & ultimately only fans, press or public can judge that.
7. Over the years, what do you collectively feel is the one thing that has kept you successful?
Hard work & dedication, no question about. Throw in a bit of blood, sweat & tears too, & there's your magic formula.
8. What advice would you give to DJs looking to band together as a group?
Same as the last answer. There's definitely no overnight success' in this business. Other than that, carve out your own sound, do not imitate whats gone before. If you want to stand out from the crowd & get recognition for your work, be original. Good luck!
9. You've all had a crazy year, what more are you expecting from 2015?
Well the 15 Year's of Technique project is still rolling out, it's had a fantastic response from across the board. We had an exciting recording session in London at the weekend with some incredibly talented vocalists, so our next single is well an truly underway, we'll have more news soon regarding that.
10. Is there any new studio equipment you guys are excited about and currently using in production?
We're all working 'in the box', and although we very much keep an eye out on the latest plugins etc, our go to favourites are Waves, Fab Filter, SugarBytes, Studio One & Ableton.
11. Other than necessities, what are some of the items you like to bring on the road with you while touring?
Plenty of music & favourite TV shows & movies to pass the time. Not very exciting but for the most part, if we're not in a club Or traveling, we're probably trying to get some some sleep, tour life.
12. You are playing Destiny Event's 5th annual Bassweek at the Hoxton March 20th for World of Drum Bass. What are you looking forward to the most?
We've done a few festivals in Canada over the last couple of years, but it's been a little while since we've done a club show there. It's always a pleasure playing over there, Drum & Bass in strong & some hardcore Junglist's over there, always goes off. Really looking forward to it, see you all soon.
---
See Drumsound & Bassline Smith at the World of Drum & Bass as part of BASSWEEK!  Get your tickets HERE!