His name resonates within the DnB movement beyond proportions, his career has led to hometown and international success, his commitment to covet drum and bass and keep it growing within the community is undeniable. Who is this I'm speaking of? Well, it's none other than Mr. Brown.
Whether he's spinning an extended set at the now illustrious institution that is Church Sundays at Tota Lounge, or breaking bread (literally) at Prophecy Radio's potlucks, he's one of the most celebrated pioneers of drum and bass in Toronto.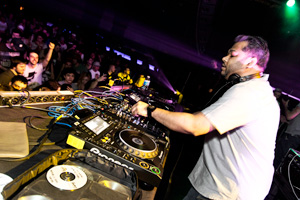 Born and raised in Toronto, James' Trinidadian heritage exposed him to many different types of music. From the rhythmic-driven sound of steel drums in calypso to disco tracks played at home growing up, the repertoire of his musical knowledge grew quickly.
When asked about his transformation throughout the years in regards to musical influences he said;
"When I was about 13, I was really into breakdancing… that was my introduction to hip hop and turntable culture. In high school, I got into the mod / rude boy scene and with that, brought Motown, Soul, Reggae and Ska. The 3rd generation of Ska became harder and more punk influence and since I was a skater the entire time that was naturally the next step. But, in 1993 after hearing a Goldie (aka Ruffige Kru) mix tape by accident, I was sold and there was no turning back."
In the midst of finding his niche and settling into the world of drum and bass he started playing shows in the city at The Labyrinth Lounge, The Apothecary, Audioworks and the Big Bop. Shortly after, he met DJ Sniper & Mystical Influence and started a rotation at Turbo Nightclub, eventually leading to infamous Destiny Friday's. Shortly after, it was full steam ahead for James. Playing locally and internationally amongst the who's who of drum and bass, he began conceptualizing projects with both established and up and coming performers in Toronto's music scene.
In 2007, he joined Prophecy FM with fellow dnb heavyweights; Marcus Visionary, DJ Prime and Gremlinz. The weekly radio show has been an anchor for dj's, junglists and everyone in between. The Sunday night instalment of well-procured music has been wildly popular for over 20 years and makes it the longest running 'on air' drum and bass radio show in North America. Not bad, right?
Continuously working on various projects over the years like Theory Events, Junglist Movement, Heavyweight and playing shows with artists like Netsky, Andy C, Calibre and Sigma has kept Mr. Brown busy and successful throughout the years. More importantly, his knowledge and grassroots approach eventually led to his biggest endeavor to date, Soul in Motion.
In 2002, James started his own production company alongside his friends and fellow DJs, Scott Free and DJ Spinz. Unlike other production companies their foundation was built on a philosophy of unification.
"Soul in Motion is a philosophy. An idea that good music can bring people together which can breed harmony and companionship amongst not just dnb and jungle supporters in the city, but anyone looking for a good party."
That mentality has made Soul in Motion very successful. With their 13 year anniversary on the horizon, a legacy of great parties and connecting international acts with homegrown talent, they've done what they set out to do. It's not just about the music, it's about the community and the fabric made stronger by SIM's contributions.
With an esteemed reputation and dedication to building brands within Toronto's drum and bass scene, it's no mistake that Mr. Brown's career continues to flourish after 25 years. With his solo project, Forward DNB also doing well in the city, the sky still has no limit.
Before we get ready to see Mr. Brown live in action on Saturday night for the highly-anticipated Projek: Spor show, I asked him a few quick questions about food and music of course!
Q: What's your favorite restaurant right now?
A: Raijin Ramen - Yonge & Dundas
Q: What is your favorite guilty pleasure song?
A: Anything by KISS
Q: If you could fly anywhere, where would it be?
A: Australia to cage dive with sharks
Mr. Brown - Projek Spor Promo Mix by Mr. Brown on Mixcloud
TRACK LISTING:
Messiah - Konflict - Spor Remix
Dirge - Spor & Apex & Ewun & Evol Intent
3 Faces - Spor & Infiltrata
Silver Spaceman - Spor
1 Up - Spor
Molehill - Spor
Knock You Down VIP - Spor
Stombox - The Qemists - Spor Remix
Lose It - Spor
Aztec - Spor
Nasty - Prodigy - Spor Remix
Bullet Time - Bad Company - Spor Remix
Kingdom - Spor
Toxic Shock - Pendulum - Spor Remix
As I Need You feat. Tasha Baxter - Spor
Some Other Funk - Spor
Breath in, Scream Out - Spor
Ziggaurat - Spor
If You Cry - Spor
The Resistance - Spor
Claret's March - Spor
The Eyes Have It - Spor
Ignition - Spor
Overdue feat. Tasha Baxter - Spor