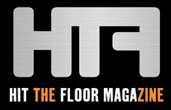 DJ Hype has, for the past twenty years, been at the vanguard of drum & bass, and, by extension, underground dance music as a whole. Leading the way with classics such as 'Closer To God' and 'Supa Sharp Shooter', his various labels, including the iconic Playaz, have consistently delivered the goods. His tireless live efforts have seen him play all over the world. He returns to Innovation at the Fire Complex in London this New Year's Eve. We chatted to Hype about his career, highlights of this year, and what to expect at Inno NYE…
HTF: Hi Hype, how are you? Where in the world are you right now?
H: I'm writing this in London just before flying out to the USA for a mini tour.
HTF: How has the last year been for you?
H: It's been another great year spreading drum and bass around the globe!
HTF: You are, for many many people, a legend in the music business. What do you put your success down to, and why do you think you, as a DJ and the labels you run, mean so much for so many people?
H: I work hard and have a big passion for what I do and I aint a bad DJ either! Hahaha!  I'm flattered that people love what I do but you need to ask them why they like me and my music. I'm just happy they like me as I love them too!
HTF: We're talking Innovation New Year's Eve. Innovation has been massive in the party scene for a long time. Tell us about your Innovation experiences. Any particular dates stand out?
H: My fav has to be Innovation In The Sun over in Spain.  It gets bigger every year and the 'Playaz' night there is always a great night.
HTF: What can people expect at this year's Innovation NYE?
H: A great night of drum and bass.
HTF: The event promises five different rooms of music. If you have time, is there anyone you're looking forward to seeing?
H: I've got another event in Manchester that night so I'll be in a rush to get there, otherwise I'd be checking everybody out.  Slammin' Vinyl are doing a big NYE event at Bowlers, which I'm looking forward to… Its busy busy busy when ya me!
HTF: What are your thoughts on drum & bass going into 2012?
H: 2012 is looking good already, plus I'm looking to put on some 'Playaz' nights on around the country, as well as some great music from my labels.
HTF: What's next for Hype?
H: I'm currently trying to produce again, I've been working with Potential Bad Boy and hope to put more time into production and get some releases of my own out again… It's been too long.
HTF: Finally, do you have any messages for the readers, and any shouts you'd like to kick?
H: Thanx to everyone that supports me, catch me on KissFM every Wednesday night 12midnght-1am.  Also check me on;  www.twitter.com/djhype_playaz  // www.facebook.com/hypehypehype
DJ Hype brings you the latest upfront drum n bass tunes every Wednesday at midnight.One of the UK's best plays an hour of heavy jungle and drum & bass with the scene's biggest DJs, producers and MCs passing through.
DJ HYPE WILL BE PLAYING FRIDAY NIGHT ON THE TOWER OF DESTINY @ THE 16TH ANNUAL WORLD ELECTRONIC MUSIC FESTIVAL