Less than 10  Hours To Go!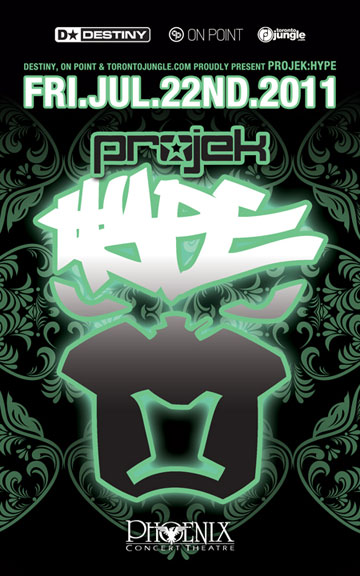 Finally, have been waiting for the RETURN of "an all-out turntable assault" from the one and only, "DJ HYPE". Ready to DESTROY the Phoenix
Concert Hall, Toronto - Canada.
Toronto, you have no idea what you are about to experience. A chance to revive the roots of dnb with rolling melodic choons past the bewitchin' hour.
How did I believe in the HYPE?
I was lucky enough to be visiting the UK, when I heard the famous pirate radion station, "Fantasy FM", little did I know who I was listening to.
My favourite album to recommend to anyone starting out with DJ HYPE is "The Dogs", released by Mixmag in 1999 - I am still to this day easily entranced, starting off the with introduction that blends into an uplifting, foot-tapping, damn good drum and bass beat.
Trust me, if you have not heard this album, you need to rewind and take a listen and indulge in the taste of dnb. It will convince you to come out on FRIDAY night and dance the night away.
Destiny Productions, is yet again spoiling the people of Toronto by bringing down a LEGEND on the dnb scene to remind us that old skool is the best skool.
Discogs™ reminds us:
"Hype began producing in 1990, engineering and co-producing tracks (including chart-toppers such as "Exorcist" and "The Bee" by Scientist, The) for hardcore staples Kickin Records, Strictly Underground, and Sub Base. Although he never lost touch with his breakbeat roots (even going so far as to spin hip-hop instrumentals over house tracks to add a bit of rhythmic flare)".
This artist has enough experience under his belt, variety and a taste for the snare drum - he is no stranger to the decks.
Don't miss out on THE HYPE!