"WE DON'T FOLLOW RULES", Dirtyphonics collectively admit. "WE CREATE THEM"
With a Dim Mak album release and multiple continent-spanning tours to their name, the French electronic artists have earned the right to keep doing things their own way. Comprised of Charly Barranger, Julien 'Pitchin' Corrales and Julien Lignon, Dirtyphonics is a forward-thinking Bass Music phenomenon that made their name on defying labels and limitations.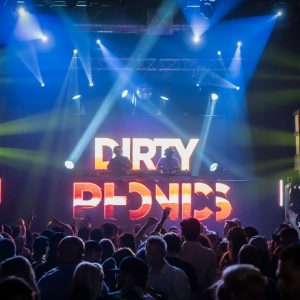 "We started by playing in Metal bands", recalls Charly. "Our sound was always meant to be powerful and high impact. From the day we started, we've challenged ourselves to create something new - we love to push boundaries". With a unique stage presence and energy the boys did just that in translating the vibe and excitement from their head-banging days into Electronic Dance Music.
The group found its footing in a potent blend of muscular Bass Music, mixing high-octane Drum and Bass, Heavy Bass House and Dubstep that spoke to a new generation of dance music fans. Refusing to be limited to any given genre, Dirtyphonics made has incorporated dramatic tempo changes into their tracks, issuing an unmistakable clarion call to their contemporaries that they would not be governed by old rules and outdated notions of performance propriety. "Our influences come from everywhere" Pitchin says. "We have been raised listening to so many different musical genres and we definitively don't want to be stuck in a specific one. We have the most fun mixing them all together to create something unique".
Dirtyphonics crash-landed into dance music's consciousness in chart-topping fashion, releasing their 2008 debut single "French Fuck" to the tune of a Beatport #1 hit. Follow up singles "Quark" and "Vandals" proved the act's ascension was no fluke, showcasing the group's signature genre defying low-end heavy sound. The group quickly became a hot commodity in the remix world, lending their talents to tracks by the likes of Skrillex, the Bloody Beetroots, Marilyn Manson, Steve Aoki, Benny Benassi, Excision, Datsik, Borgore, Nero, Kaskade, Knife Party and Linkin Park.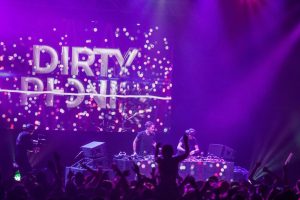 In 2013, Dirtyphonics released their debut album "Irreverence" on Steve Aoki's Dim Mak Records label, showcasing the range of music they create. The critically acclaimed effort features singles "DIRTY", "Walk In The Fire", and "No Stopping Us", and ran the stylistic gamut from anthemic electro to frenetic Drumstep as well as incorporating thrash guitars, pounding drums and other vestiges of the fierce heavy metal music that influences their art and characterized their past.
After this they released their "Write Your Future" sophomore EP with features including Grammy winner Trinidad James and Trap king Uz on "Hustle Hard", Dubstep legend 12th planet, and singer Matt Rose, among others. Following this, Dirtyphonics shook the Drum and Bass world one more time with they're anthem "Anonymous" that has been played well over a million times on Soundcloud.
2016 is set to be Dirtyphonic's biggest year yet, with their infamous "Neckbreaker" North American tour, titled after their hit collaboration with Dubstep mad man Funtcase.
With a freshly bagged DJ Mag's "Best French electronic band" award and new EP to be released, Dirtyphonics is re-inventing, once again, the rules of Bass Music.
----------
See DIRTYPHONICS live at CODA in Toronto on Friday, October 14th!  Get your tickets here: WANTICKETS