This DJ just happens to be Toronto's own Robb G at a "Make it Funky" party in 2007, the days when dubstep was the new kid on the block , Skrillex was still in a screamo band and breaks were still fresh, funky and alive.
The now infamous "LAST NIGHT A DJ TOLD ME TO FUCK OFF" video where a DJ spinning the wee hours of the morning in an underground nightclub in Toronto is captured telling an annoying attention starved fan exactly what every DJ has dreamed of doing in the past. The video featured on the front page of reddit went viral instantly with almost everyone in support of the DJ. Although at first it may seem like he is being a giant douchebag, afterall maybe this poor girl just wanted to hear her favourite jam, but all that doubt changes once Robb G drew us a picture of the events leading up and then the situation is painted all to clear
"This girl came up to me and harassed me 3 times while I was playing. She was upset that I wasn't paying enough attention to her and her friend dancing on stage. Rubbing herself on me and yelling in my ear. The first time I was very polite. The second time I was firm and told her I'd be rude if there was a 3rd time. What you see in this video is the 3rd time and final time. I was in the tail-end of a layered 3 minute mix with both volumes at 10 and she came over, pulled on my headphone cord while yelling at me."
SO WHO EXACTLY IS "ROBB G" ?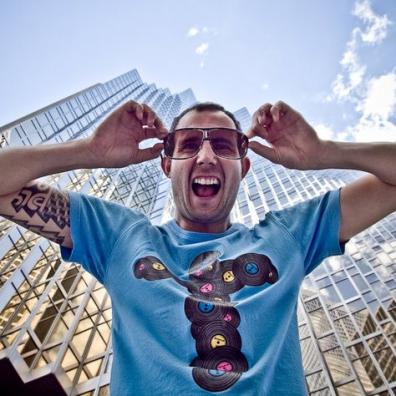 Robb G is literally "in" the music when he's on stage, dripping with sweat as he screams at the crowd, possessed by the music while he throbs in a head banging body thrash. After seeing him live, there is no questioning that Robb G is a man who truly loves what he does. Known for his technical skills on the decks and explosive stage presence, he's performed in Europe and from coast to coast in North America, appearing in over 50 cities on his native continent.
Robb G has had releases and remixes on over a dozen labels in the last decade. Remixing DJ Dan, MC Flipside, Will Bailey, Hatiras and many more along the way. His 12 Inch Therapy single received tremendous acclaim, making its way to the top of URB, iDJ, and Mixmag's Best Of 2008 lists. It hit the number 12 spot on the UK buzz charts and became the number 1 most requested song on Sirius Radio's Boombox Channel for the entire year. It is no surprise that the Plump DJs named him alongside Justice and Switch when asked who the most exciting producers are.
2011 started with a bang as Robb G's remix with Lazy Rich of "Lose Control" became one of the most sought after releases with rave reviews from Portugal to New Zealand, NYC to Poland. It received over 15 000 plays on Soundcloud and spent over a month in Beatport's top 100 sales charts, peaking at number 16 in electro house. He's booked for the second year in a row to play the sold-out Ultra Music Fest in Miami. Billed as "The World's Premier Electronic Music Festival" with 100 000 people attending each day. Robb G is set to embark a multi-city cross-continent tour this spring in support of his new 7 track Get Slayed! EP, bringing his energetic presence to the far 4 corners of North America and abroad.
ROBB G WILL BE PLAYING FRIDAY NIGHT ON THE TIME STAGE @ THE 16TH ANNUAL WORLD ELECTRONIC MUSIC FESTIVAL